VITAMIN D
Vitamin D
1000IU
NPN 80008795
Manufactured By Prairie Naturals
NON GMO
DAIRY FREE
GLUTEN FREE
SOY FREE
EGG FREE
WHEAT FREE
CORN FREE
PRESERVATIVE FREE
ARTIFICIAL COLOURS
SWEETENERS
YEAST
BOOST YOUR IMMUNE SYSTEM, BONES & SO MUCH MORE
In addition to being an important factor in the maintenance of good health, Vitamin D stimulates the absorption of calcium and phosphorus into the body, both of which are essential for maintaining bone health
Helps strengthen bones and the immune system

Formulated with Vitamin D3 for maximal absorption

Deficiency is common in Canada
Why you'll love it
Because while basking in the sun all day sounds like an ideal way to get your vitamins, for many people, it's just not practical. In addition to being an important factor in the maintenance of good health, Vitamin D stimulates the absorption of calcium and phosphorus into the body, both of which are essential for maintaining bone health. A Vitamin D deficiency in a child may manifest as rickets, and in adults as a softening of the bones or osteoporosis. It's also critical for proper immune function and plays a role in ensuring that your muscles, heart, lungs and brain are in top shape.
Vitamin D is a health basic. Everyone from infants to seniors can benefit from the appropriate dose of Vitamin D, especially those who live in a colder climate with limited year-round exposure to direct sun. Because diet alone is a poor source of Vitamin D, most of your body's needs are met from exposure to sunlight and complemented with supplements. 
Studies have shown that in order to get sufficient levels of Vitamin D, one would have to expose their skin to at least 2 hours of midday sunlight every day. Knowing this, it's easy to see how nearly 40% of the world is deficient in Vitamin D and sadly, Canadian's aren't any exception. A recent survey shows that approximately 3 million Canadians have inadequate concentrations of Vitamin D. Only 10% are at optimal levels while 60% of Canadians aged 30-39 are below the normal Vitamin D range. In fact, Vitamin D deficiency may be the most common medical condition in the world, and supplementation may be the most cost effective strategy to improve health, reduce disease and increase longevity.
Vitamin D has always been a part of the basic recommendations for the maintenance of general health, but researchers are now noting that we actually require far more than what was previously thought. While Health Canada considers blood levels above 50nmol/L to be sufficient to prevent Vitamin D deficiency, many other sources list an optimal level between 100-150nmol/L.
Why this formula?
It's important to always check your supplement labels carefully as not all Vitamin D supplements are created equally!  There are actually two forms of Vitamin D: D2 (ergocalciferol) and D3 (cholecalciferol). It was once believed that these two forms were equally effective but emerging research shows this is not the case. D2 is produced by plants when they are exposed to UV light, whereas D3 is the bioactive form of Vitamin D that our bodies naturally produce in response to sunlight. Both D2 and D3 need to undergo further conversion by the liver and kidneys to get to the active compound 1,25-hydroxy vitamin D, however, studies have found that even though they both follow the same process, D3 is far more effective at raising levels of the active form compared to D2. 
Because Vitamin D is a fat soluble vitamin, it's best taken daily with a healthy fat. Our Vitamin D is formulated in a base of Organic Olive Oil to help with absorption.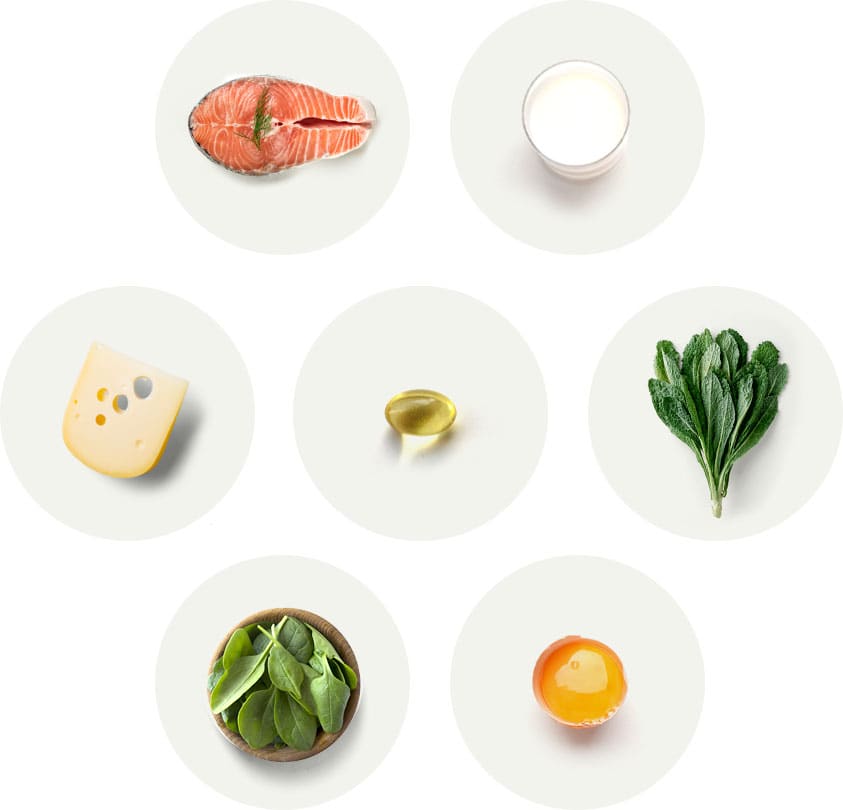 How much do I really need?
If you do a search online, you will see recommendations ranging from 400IU per day up to 10,000U per week, so how do you determine what's right for you? In Canada, Vitamin D blood levels can easily be tested by your family doctor or by an independent organization. While testing will help you pinpoint exactly how deficient you are, our standard recommendation is that all adults take up to 4000IU per day. This dose recommendation is based on the wealth of information available on the safety of Vitamin D supplements as well as the documented research showing that most Canadians are well below optimal levels.
Still not sure what you're after?
Take our Health Assessment and let us help!
Nutritional Info
Supplement Facts
VITAMIN D
PER 1 CAPSULE

Amount Per Serving
Vitamin D (Vitamin D3, Cholecalciferol)
25mcg (1000IU)
Non-Medicinal Ingredients: Organic Olive Oil (cold-pressed, extra virgin), gelatin, purified water, glycerin
Recommended Use or Purpose: A factor in the maintenance of good health. Helps in the development and maintenance of bones and teeth. Helps in the absorption and use of calcium and phosphorus.
Recommended Dose (Adults): Take 1 softgel daily with a meal or as directed by a qualified health care practitioner.
Cautions & Warning: People with the following conditions should take Vitamin D only with the guidance of a knowledgeable health care provider: Primary hyperparathyroidism, Sarcoidosis, Granulomatous tuberculosis, some cancers.
As with any natural health product, you should consult your healthcare practitioner on the use of this product. Store product in a cool and dry place. Keep out of reach of children. If you experience an adverse event or allergic reaction, discontinue use immediately and contact a healthcare professional.