VITAMIN B2
Vitamin B2
100mg
NPN 80002865
Manufactured By NOW
NON GMO
DAIRY FREE
GLUTEN FREE
SOY FREE
VEGAN
MIGRAINE RELIEF FOR CHRONIC SUFFERERS
In addition to being an essential vitamin required for some enzymatic processes in the body, it has been shown to have benefit in preventing and treating chronic migraines
Great solution for the treatment of migraines

Formulated as a capsule for increased absoption and decrease binders and fillers
Why you'll love it
Because migraines really suck! They are a big problem across Canada affecting millions of people, and are actually one of the top reasons people end up in the emergency room. Everyone's migraine is different and can be caused by a number of factors including hormonal imbalance, sensitivities to food/gluten, sleep issues or nutrient deficiencies. A deficiency in Magnesium and some B Vitamins, specifically Vitamin B2, have been linked to migraines. 
In studies, Vitamin B2 (Riboflavin),  has demonstrated a reduction in migraine occurrence by 50%, compared to 15% for placebo, which can have a significantly positive impact on individuals daily life reducing the amount of time required off work. Migraines have often been linked to impaired mitochondrial function (the energy producing centres of cells). Because Riboflavin plays an important part in the production of energy, supplementing can help improve this process, thereby reducing the frequency and severity of migraines. 
While it's highly effective, it can take up to 4-6 weeks to start seeing some benefit, so stick to it and soon you should start to notice a decrease in frequency, severity and duration of your migraines. In one study, patients experienced 2 fewer migraine attacks per month, 3.5 fewer headache days per month, and an average migraine duration of 1.5 hours shorter than compared to placebo.
Outside of using Vitamin B2 to help with migraines, most people can get sufficient quantities from their diet alone, so a true deficiency is not commonly observed. Small amounts of Vitamin B2 are found in most animal and plant tissue, and it's widely available in a variety of food including milk, meat, eggs, nuts and green vegetables. While the amount of B2 required to help with migraines is probably hard to attain from diet alone, it is still a good idea to incorporate these foods into your meals as part of your overall treatment plan. 
Why this formula?
Our supplement comes in a capsule form which helps to increase absorption and decrease binders and fillers.
If you suffer from migraines, we highly suggest you give this underrated B vitamin a go in addition to other lifestyle modifications you might already be doing with your primary care provider, including:
Starting a migraine diary to identify triggers

Working on an elimination diet and excluding common culprits such as gluten, dairy, sugar and caffeine 

Making sure you are having regular bowel movements as often constipation and migraines go hand and hand

Being mindful of the amount of prescription and non-prescription pain-relieving medications you are taking as these are often responsible for a phenomenon known as "medication overuse headache"

Consider adding a complement of herbal and nutritional supplements with good evidence in migraine prevention. You can check out our health assessment survey to get all the relevant recommendations.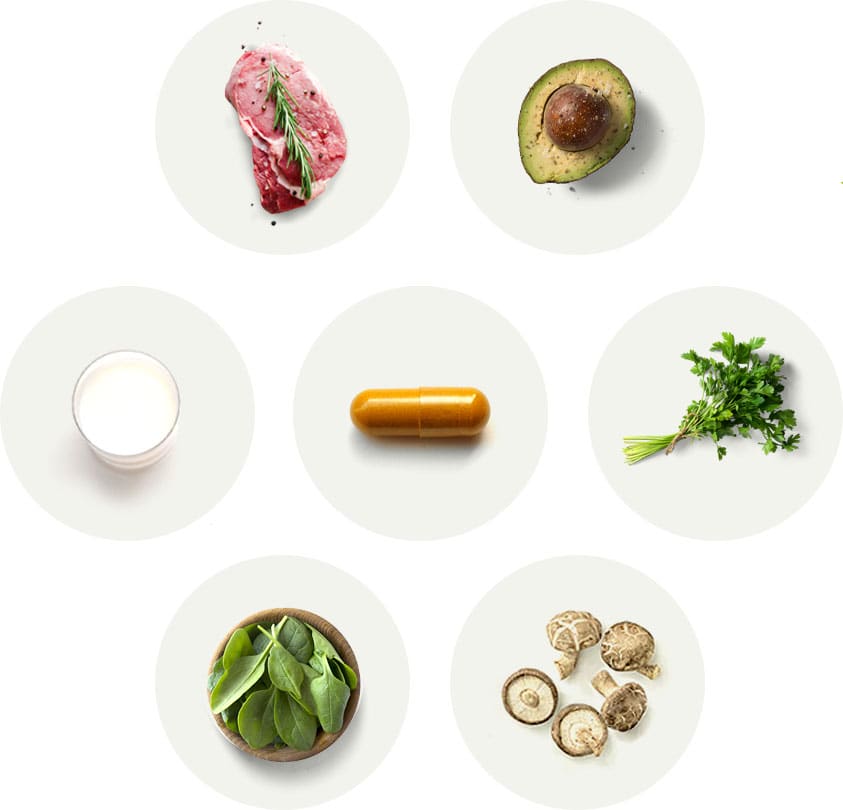 How much do I really need?
For migraine prevention, the most commonly studied dose is 400mg daily. We recommend dividing the dose into two capsules twice a day and taking it with meals to help with absorption and to minimize any upset stomach.
Still not sure what you're after?
Take our Health Assessment and let us help!
Nutritional Info
Supplement Facts
VITAMIN B2
PER 1 CAPSULE

Amount Per Serving
Vitamin B2 (riboflavin)
100mg
Non-Medicinal Ingredients: Rice Flour, Capsule (gelatin, water), Magnesium Stearate (vegetable grade), Silica
Recommended Use or Purpose:  Vitamin B-2, also known as Riboflavin, is a member of the B-vitamin family. Because food processing depletes many naturally occurring nutrients, supplementation is key to insure adequate intake of this important vitamin.
Recommended Dose (Adults): For migraine prevention, take 2 capsules twice daily with food.
Cautions & Warning: Upset stomach may occur with doses over 200mg at once. Take with food to help increase absorption.
As with any natural health product, you should consult your healthcare practitioner on the use of this product. Store product in a cool and dry place. Keep out of reach of children. If you experience an adverse event or allergic reaction, discontinue use immediately and contact a healthcare professional.