PRENATAL MULTI
Prenatal Multi
NPN 80078877
Manufactured By NFH
NON GMO
DAIRY FREE
GLUTEN FREE
SOY FREE
EGG FREE
WHEAT FREE
PRESERVATIVE FREE
ARTIFICIAL COLOURS
SWEETENERS
YEAST
ARTIFICIAL FLAVOUR
SUPPORTING A HEALTHY PREGNANCY FROM THE START
Vitamin and mineral supplementation, while planning for parenthood and during pregnancy, helps ensure optimal nutrition for the health of the mother and unborn baby. Our prenatal provides therapeutic doses of a variety of supplemental nutrients aimed at preventing and correcting vitamin and mineral deficiencies, and achieving benefits seen beyond typical dietary intake levels.
For the maintenance of good health in both the prental and post partum period

Contains active forms of critical minerals including L-5-MTHF & Methylcobolamin

Daily dose provides 1mg active folic acid and 30mg iron glycinate
Why you'll love it
Because mama, growing a human inside of you is a tough job, and we can all use a little help from our friends sometimes! If you stop and think about it for a second, it's pretty amazing what the human body can do – but at what cost? Pregnancy and the postpartum period can be incredibly taxing on a woman's body resulting in an increased need for nutrients including vitamins and minerals. A balanced and nutritious diet that focuses on whole, unprocessed foods is a good starting point to help ensure a healthy pregnancy. A high quality Prenatal supplement can help fill nutritional gaps in your day to day eating plan, and ensures that you are getting the minimum essential nutrients that will help you grow a happy and healthy baby.
This increased nutritional demand is important to consider long before you are even pregnant or in some cases, even thinking about becoming pregnant, because the fact is that up to 61% of pregnancies are actually unplanned. While there is no bad time to start a Prenatal, ideally we recommend women switch from their daily Multivitamin to a Prenatal specific formula at least 3 months before trying to conceive, even before stopping birth control methods. Most women don't actually find out they are pregnant until they're past those first 4 weeks and its within these first 28 days of pregnancy where we see some of the most critical stages of development. Many organs are beginning to develop rapidly including the neural tube, which will later become the spinal cord. 
While some nutrients such as Folic Acid have garnered more attention for their critical role in pregnancy, adequate levels of all vitamins, minerals and antioxidants work together towards preventing complications such as gestational diabetes or pre-eclampsia.
Why this formula?
It has everything you need and none of the junk you don't. There are a number of Prenatal supplements flooding the market today, but not all are created equally. There's a huge variance in quality between products you'll find on the shelf ranging from popular grocery store brands that contain negligible amounts of nutrients in their least absorbable forms, to high quality thoughtfully curated formulas that contain all the right nutrients in the right doses.
So how do you decide? We have a few guiding principles when it comes to selecting the best available Prenatal supplement:
It should contain at least the recommended daily allowance (RDA), but ideally more, of appropriate nutrients that have been shown to be beneficial in pregnancy
Nutrients have to be present in their activated or most absorbable forms
It should be dosed at at least 2-3 capsules a day since many of the nutrients in a Prenatal are water soluble, and single daily doses are often excreted before sufficient quantities are absorbed
There should be no dyes, and additional excipients should be minimal and pronounceable
It should come in a capsule form as tablets often have hard to digest binders and fillers
It should be non-GMO and third party tested for quality and purity
Bonus if it also is free from gelatin and the top allergens such as soy, wheat, eggs, dairy, yeast, citrus, preservatives, artificial flavors and sugar.
Our Prenatal checks all those boxes! As well, it's free from beta carotene, an antioxidant that's converted to Vitamin A in the body. High doses of Vitamin A have been shown to cause birth defects when taken during pregnancy, and since a true Vitamin A deficiency is rare in Canada, our formula provides health‑care practitioners with the flexibility to supplement this micronutrient separately as needed.
There are 25 important vitamins and minerals in our Prenatal supplement, but what really sets ours apart from the rest is:
Vitamin D (D3, cholecalciferol) in sufficient quantities to help support healthy bones and immune function for a growing baby.
Vitamin K (Vitamin K1) to help your body work with Vitamin D and Calcium in support of your baby's skeletal development.
l-Methylfolate (from Calcium l-5-methyltetrahydrofolate) to help support nervous system development and prevent any neural tube defects. Our supplement contains the superior, more absorbable form. Many people cannot effectively convert Folic Acid into its active form and given the critical nature of this nutrient, we always recommend taking the activated form directly to prevent any deficiencies.
Calcium (from calcium citrate) for bone development and healthy teeth as well as to support muscle movement. While about 1000mg of Calcium per day is critical during pregnancy, your body actually adapts and becomes better at absorbing Calcium, meaning that if you consume average amounts of Calcium rich foods, you likely don't need such a large dose in your prenatal supplement.
Iron (from iron glycinate) for oxygenating the blood and managing increased blood supply demands on the pregnant body. In pregnancy, it's recommended to get around 27mg per day, which can be difficult to achieve with diet alone. Our supplement contains the full dose and has you covered.
And can we talk a bit about the fillers for a minute? There's nothing there that shouldn't be and it's all encapsulated in a vegetable based capsule that helps ensure 100% disintegration so vitamins can enter the intestine where they should be.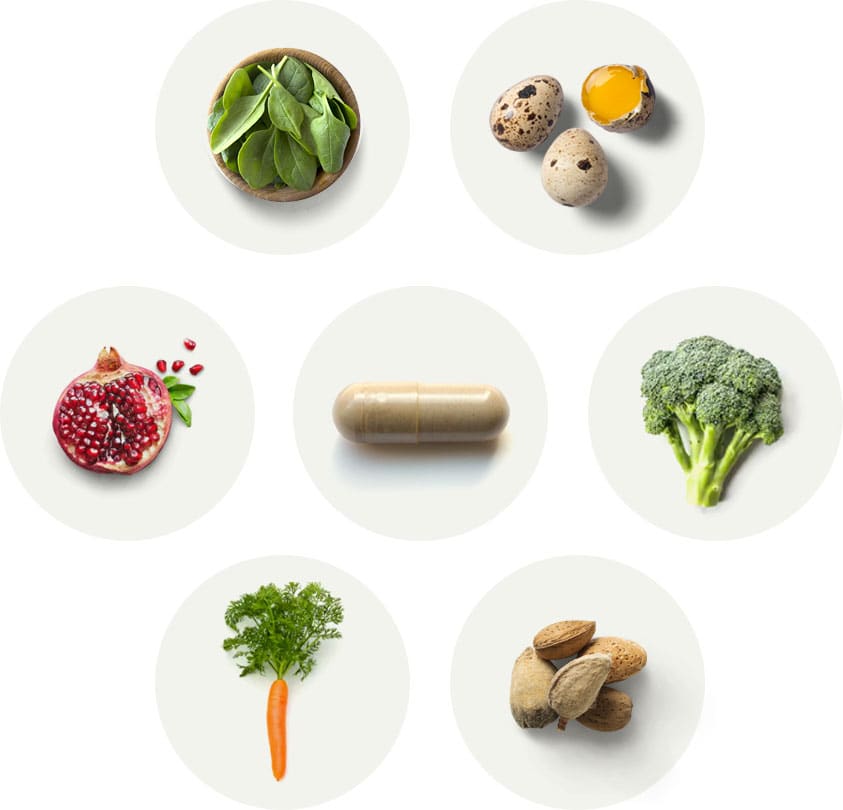 How much do I really need?
In order to meet your daily requirements and ensure proper and complete absorption of all the essential nutrients, we recommend taking 3 capsules per day, in divided doses, with a meal. This can either be taken with breakfast, lunch and supper, or divided twice a day with breakfast and supper if needed to make sure you don't miss a dose!
Still not sure what you're after?
Take our Health Assessment and let us help!
Nutritional Info
Supplement Facts
PRENATAL MULTI (PRENATAL SAP)
PER 3 CAPSULES

Amount Per Serving
Vitamin C (calcium ascorbate)
175mg
Vitamin D (cholecalciferol) [1000 IU]
25mcg
Vitamin E (d‑α‑tocopheryl acetate) [50 IU]
33mg AT
Vitamin K (vitamin K1)
100mcg
Vitamin B1 (thiamine hydrochloride)
100mg
Vitamin B2 (riboflavin-5''-phosphate sodium)
50mg
Niacinamide (vitamin B3)
50mg
Vitamin B6 (pyridoxal-5'-phosphate)
50mg
l‑Methylfolate (from calcium l‑5‑methyltetrahydrofolate)
1mg
Vitamin B12 (methylcobalamin)
1000mcg
Vitamin B5 (calcium d‑pantothenate)
100mg
Calcium (from calcium citrate)
125mg
Iron (from iron glycinate)
30mg
Iodine (from potassium iodide)
150mcg
Magnesium (from magnesium citrate)
75mg
Zinc (from zinc citrate)
25mg
Selenium (from l-selenomethionine)
50mcg
Copper (from copper citrate)
2mg
Manganese (from manganese citrate)
5mg
Chromium (from chromium polynicotinate)
100mcg
Molybdenum (from molybdenum citrate)
50mcg
Potassium (from potassium citrate)
75mg
Boron (from boron citrate)
700mcg
This is a Professional Line Product and requires your Practitioner's name at checkout
Non-Medicinal Ingredients: Microcrystalline cellulose, vegetable magnesium stearate, and silicon dioxide in a vegetable capsule composed of vegetable carbohydrate gum and purified water
Recommended Use or Purpose: Folate helps to reduce the risk of neural tube defects when taken daily prior to becoming pregnant and during early pregnancy. A multivitamin/mineral supplement for the maintenance of good health. Vitamin C, selenium, and vitamin E are antioxidants for the maintenance of good health.
Recommended Dose (Adults): Take 3 capsules daily with meals.
Cautions & Warning:  Consult a health-care practitioner prior to use if you are taking blood thinners. Keep out of reach of children. There is enough iron in this package to seriously harm a child.
As with any natural health product, you should consult your healthcare practitioner on the use of this product. Store product in a cool and dry place. Keep out of reach of children. If you experience an adverse event or allergic reaction, discontinue use immediately and contact a healthcare professional.