MULTIVITAMIN
Multivitamin
NPN 80087488
Manufactured By NFH
NON GMO
DAIRY FREE
GLUTEN FREE
SOY FREE
EGG FREE
WHEAT FREE
PRESERVATIVE FREE
ARTIFICIAL COLOURS
SWEETENERS
YEAST
AVOID WHEN PREGNANT/BREASTFEEDING
FILLING IN THE GAPS WHEN DIET ALONE ISN'T ENOUGH
Our Multivitamin for the maintenance of good health contains the active, absorbable forms of all vitamins and minerals and no unnecessary ingredients, dyes or hard to digest binders and fillers
Iron Free Multivitamin for the maintenance of good health

Contains active, absorbable forms of all vitamins and minerals

Contains no unnecessary ingredients or dyes and is available as a capsule minimizing hard to digest binders and fillers
Why you'll love it
Because let's face it, no one eats perfectly balanced meals 100% of the time. And, even for those that do have an exceptionally clean and nutritious diet, the truth is that the nutrient density of our food is not nearly what it used to be. Unless you are lucky enough to live on a farm, it could take several weeks between harvesting and when the food arrives on your plate, losing valuable nutrients along the way. Furthermore, with the popularization of herbicides and pesticides like Roundup in the early 70's, and the addition of hormones and antibiotics into the crops and animal feed, our bodies have to work double time to try and deal with this extra toxic load, depleting more of our own vitamins and minerals in the process. Taking a daily Multivitamin supplement helps fill that gap and ensures adequate intake of several nutrients that may be lacking in processed, cooked, denatured or over farmed foods in today's typical diet.
Stress levels seem to be on the rise these days as the expectation shifts towards doing more and being connected 24/7. Stress can take a big toll on our system and adrenals, increasing our nutrient requirements often during times when one's eating habits may not take top priority. Our Multi provides daily therapeutic doses of a variety of supplements and nutrients in order to prevent vitamin or mineral deficiencies as well as to achieve higher intakes of nutrients believed to be of benefit beyond typical dietary levels. 
Why this formula?
If you want to spend hours being confused, compare all the different Multivitamin products available on the shelf of your local drugstore. There's a huge variance in quality between products you'll find ranging from popular grocery store brands that contain negligible amounts of nutrients in their least absorbable forms, to high quality thoughtfully curated formulas that contain all the right nutrients in the right doses. 
So how do you decide? We have a few guiding principles when it comes to selecting the best available Multivitamin:
It should contain at least the recommended daily allowance (RDA), but ideally more, of appropriate nutrients

Nutrients have to be present in their activated or most absorbable forms

It should be dosed at at least 2-3 capsules a day since many of the nutrients in a Multivitamin are water soluble and single daily doses are often excreted before sufficient quantities are absorbed

There should be no dyes, and additional excipients should be minimal and pronounceable

It should come in a capsule form, as tablets often have hard to digest binders and fillers

It should be non-GMO and third party tested for quality and purity

Bonus if it also is free from gelatin and the top allergens such as soy, wheat, eggs, dairy, yeast, citrus, preservatives, artificial flavors and sugar. 
Our Multivitamin checks all those boxes! As well, it's free from beta carotene, Vitamin A and Iron which are often supplemented separately at therapeutic levels as needed. 
We're especially happy that our supplement contains:
Vitamin E from mixed tocopherols rather than just the d-alpha form found in most supplements 

Calcium and Magnesium in their citrate forms rather than the practically unabsorbable carbonate form found in many drug store brand Multi's

Vitamin B2 and Vitamin B6 in their activated phosphate forms lending to increased absorption

Vitamin B12 as methylcobalamin versus cyanocobalamin, again improving absorption and efficacy

Folic Acid as Calcium L-5-methyltetrahydrofolate instead of Folate as seen in many, even premium brands, of Multivitamins. Many people cannot effectively convert Folic Acid into its active form and given the critical nature of this nutrient, we always recommend taking the activated form directly to prevent any deficiencies, even when one does have a diet rich in folate containing foods. 
And can we talk a bit about the fillers for a minute? There's nothing in our Multivitamin that shouldn't be and it's all encapsulated in a vegetable based capsule that helps ensure 100% disintegration so vitamins can enter the intestine where they should be.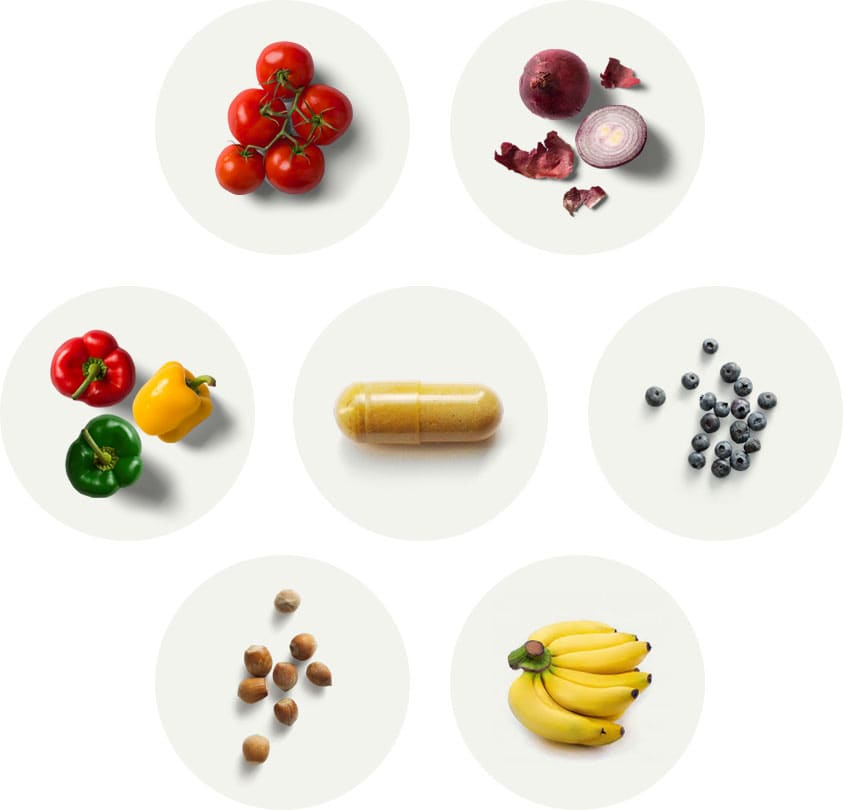 How much do I really need?
In order to meet your daily requirements and ensure proper and complete absorption of all the essential nutrients, we recommend taking 3 capsules per day, in divided doses, with a meal. This can either be taken with breakfast, lunch and supper, or divided twice a day with breakfast and supper if needed to make sure you don't miss a dose!
Still not sure what you're after?
Take our Health Assessment and let us help!
Nutritional Info
Supplement Facts
MULTIVITAMIN (MULTI SAP)
PER 3 CAPSULES

Amount Per Serving
Vitamin E (mixed tocopherols from non‑GMO sunflower)
14.283 mg
Vitamin C (calcium ascorbate)
200 mg
Vitamin D3 (cholecalciferol) [400 IU]
10 mcg
Vitamin B1 (thiamine hydrochloride)
100 mg
Vitamin B2 (riboflavin)
75 mg
Vitamin B2 (riboflavin-5ʹ-phosphate)
25 mg
Vitamin B3 (inositol hexanicotinate, flush-free)
50 mg
Vitamin B5 (calcium d‑pantothenate)
100 mg
Vitamin B6 (pyridoxal-5ʹ-phosphate)
20 mg
l‑Methylfolate (from calcium l-5‑methyltetrahydrofolate)
1 mg
Vitamin B12 (methylcobalamin)
1000 mcg
Chromium (from chromium picolinate)
100 mcg
Molybdenum (from molybdenum citrate)
150 mcg
Calcium (from calcium citrate)
125 mg
Magnesium (from magnesium citrate)
100 mg
Potassium (from potassium citrate)
50 mg
Zinc (from zinc citrate)
15 mg
Manganese (from manganese citrate)
1.5 mg
Copper (from copper gluconate)
1.5 mg
Iodine (from potassium iodide)
450 mcg
Selenium (from l-selenomethionine)
100 mcg
This is a Professional Line Product and requires your Practitioner's name at checkout
Non-Medicinal Ingredients: Vegetable magnesium stearate, silicon dioxide, and microcrystalline cellulose in a vegetable capsule composed of vegetable carbohydrate gum and purified water
Recommended Use or Purpose: Multivitamin/mineral supplement for maintenance of good health.
Recommended Dose (Adults): Take 3 capsules daily with meals.
Cautions & Warning:  Do not use if you are pregnant or breastfeeding. Consult a health‑care practitioner prior to use if you have a history of non-melanoma skin cancer.
As with any natural health product, you should consult your healthcare practitioner on the use of this product. Store product in a cool and dry place. Keep out of reach of children. If you experience an adverse event or allergic reaction, discontinue use immediately and contact a healthcare professional.