VEGAN OMEGA
Vegan Omega
500mg
NPN 80077246
Manufactured By NutraVege
ARTIFICIAL COLOURS
SWEETENERS
ARTIFICIAL FLAVOUR
VEGAN
ESSENTIAL NUTRIENTS FOR OPTIMAL HEALTH
Source of omega‑3 fatty acids for the maintenance of good health. Helps support cognitive health and brain function. Helps maintain cardiovascular health and to reduce serum triglycerides.
High potency Omega formula made from algae

100% vegan formula

Contains both EPA and DHA in high concentrations
Why you'll love it
Because you want all the benefits the Omega's have to offer without any of the fish! Omega 3 isn't synthesized by the body and must be obtained from dietary sources, but many vegetarians and vegans are lacking in these Essential Fatty Acids (EFAs) because the primary useable source of these good fats is fish.  
Omegas are essential nutrients required for the proper structure and functioning of every cell in the body. In fact, there are over 60 conditions that have been shown to benefit from their use. Furthermore, due to their extensive role, they are critical for optimal health and nearly everyone can benefit from improving their Omega 3 intake. These good fats do it all from helping with the absorption of vitamins and minerals, improving heart and brain health, promoting proper nerve function, helping with hormone production, nourishing the hair, skin and nails, as well as treating and preventing a number of diseases. Your brain is about 60% fat, so it's no wonder that supplementing with lots of good, healthy fats is a no-brainer for most people! Not only have researchers seen benefits for memory but they've also seen improvements in mood and emotional balance. 
When it comes to these essential fatty acids (EFAs) things can get a little confusing, so let's break it down. There are two main classes of unsaturated EFA's: Omega 6's and Omega 3's (there are also Omega 9's, but these are not considered essential). Each EFA starts with a parent compound and converts into longer chain derivatives in the body. For Omega 3's, we see Alpha Linoleic Acid (ALA) being converted into Eicosapentaenoic acid (EPA) and then later Docosahexaenoic acid (DHA). For Omega 6's, Linoleic Acid (LA) gets converted to Gamma Linoleic Acid (GLA) then later to Arachidonic Acid (AA). And while we agree that all these big words are confusing, the important take home message is that Omega 3's and Omega 6's follow two different metabolic pathways with end products that have quite different biological actions. 
Seeds, nuts and leafy greens are all good plant-based sources of Alpha Linoleic Acid (ALA), but, because the body isn't great at converting the plant-based omegas into usable Docosahexaenoic acid (DHA) (only 5-10% gets converted), those following a plant-based diet, or those who prefer not to consume fish, can become deficient in this essential nutrient.
Why this formula?
Our supplement is 100% vegan right down to the softgel they are encapsulated in. The algae oil is derived from sustainably sourced Schizochytrium sp. which is marine microalgae that is high in beneficial EPA + DHA.
Many vegan Omega-3's are lacking both EPA and DHA, however, we have been sure to select a supplement that contains a guaranteed 500mg of EPA + DHA. Due to the natural fluctuations of EPA and DHA in algae, the individual amounts of each can vary, though you can be assured that each capsule will contain a mix of both essential nutrients. 
Each batch is third party tested for environmental toxins and heavy metals and adheres to the strictest international standards for purity and freshness.
Derived from a sustainable source

Contains both EPA and DHA in high concentrations

Formula is suitable for Vegans

Each batch is third party tested for environmental toxins and heavy metals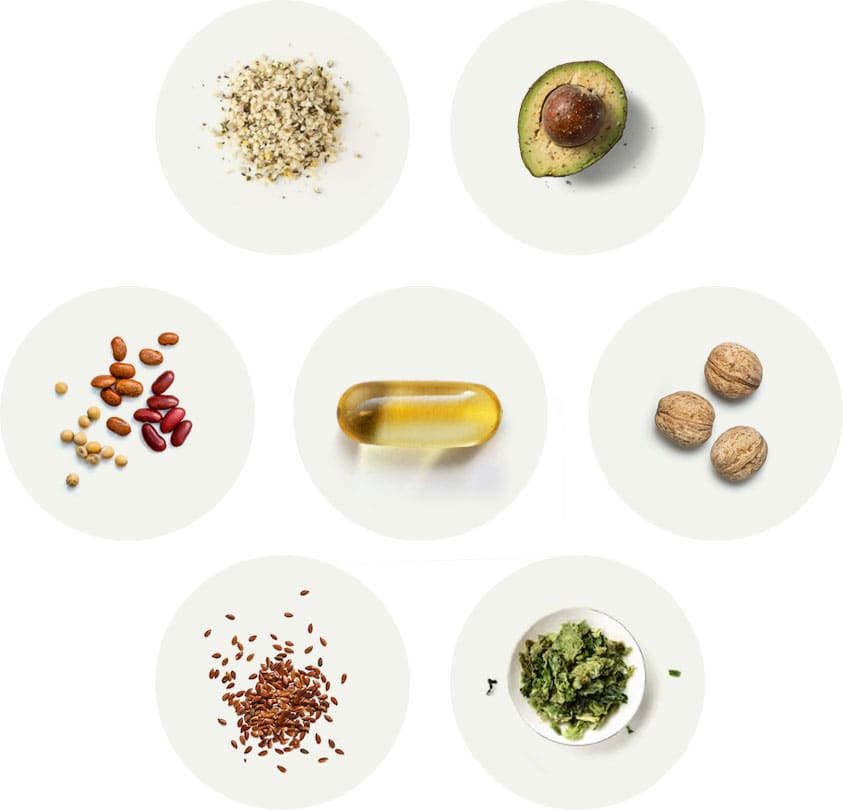 How much do I really need?
Because of the purely vegan nature of this supplement, you'll notice that a gram of vegan EPA +DHA will tend to be much pricier than a gram of fish oil, so we are mindful with our recommendations. Taking 1 to 2 softgels a day provides about 500 to 1000mg of EPA+DHA – more than enough to help maintain healthy levels of Omega 3's without breaking the bank. Another good way for those not consuming fish to increase their Omega 3 is to actually decrease their dietary Omega 6 intake by cutting out processed foods and switching to high quality oils such as avocado oil and extra virgin olive oil.
Still not sure what you're after?
Take our Health Assessment and let us help!
Nutritional Info
Supplement Facts
VEGAN OMEGA (OMEGA-3 PLANT)
PER 1 CAPSULE

Amount Per Serving
Algal Oil (Schizochytrium spp.)
1.03g
Non-Medicinal Ingredients:   Sunflower oil, natural flavour, tocopherols (soy), rosemary extract, green tea extract, ascorbyl palmitate. Soft gel ingredients: modified corn starch, vegetable glycerin, carrageenan, sorbitol (non-gmo), and purified water
Recommended Use or Purpose: Beneficial for the maintenance of good health.
Recommended Dose (Adults): Take 1 to 2 softgels daily.
As with any natural health product, you should consult your healthcare practitioner on the use of this product. Store product in a cool and dry place. Keep out of reach of children. If you experience an adverse event or allergic reaction, discontinue use immediately and contact a healthcare professional.