PRENATAL DHA
Prenatal Dha
500mg
NPN 80065874
Manufactured By Nordic Naturals
NON GMO
DAIRY FREE
GLUTEN FREE
FOR BABY'S GROWING BRAIN
Prenatal DHA is the ideal supplement before, during, and after pregnancy, providing safe and effective omega-3 nutrition for moms.
Supports healthy brain development in growing babies

Smaller softgels are easier to swallow, are unflavoured and have no fishy aftertaste

Made with small, wild caught fish and third party tested for purity and freshness
Why you'll love it
Mama's gotta build that brain!
When you're pregnant or breastfeeding, your requirements for Essential Fatty Acids (EFAs) increase. During pregnancy, the Omega 3's travel through your placenta and support the growth of the baby's brain, eyes, nervous system and tissues. Interestingly, there have also been some studies showing that maternal intake of DHA while pregnant and breastfeeding can actually decrease the risk of infant allergies. 
Third Trimester to 2 years Post Partum: The most critical time for healthy brain development.
Supplementing with Prenatal DHA all throughout pregnancy and after the baby is born is critical. Omega 3's continue to support baby's development and immune system and can also help contribute mom's healthy postpartum mood and well being.
Even if you aren't breastfeeding, it's a good idea to continue to take a Prenatal DHA supplement after birth as deficiency in EFAs has been associated with postpartum depression. 
Sometimes you can't consume enough fatty fish!
A significant amount of good quality Eicosapentaenoic acid (EPA) and Docosahexaenoic acid (DHA) can be obtained from your diet if you are regularly consuming about 5oz of high quality fatty fish (salmon, trout, herring, sole) per week. However, the reality is that many women just don't (or don't want to – hello first trimester nausea and food aversions!).
When you are consuming your Omega 3's through diet, it's important to be aware of:
 – the source of your fish
 – how it was raised (farmed or wild)
 – the likelihood of heavy metal contamination
Try shopping with a local fishmonger who can help you answer those questions. 
Get your DHA stores up early!
Starting a proper supplement protocol long before you get that exciting blue line or flashing + is ideal to ensure the baby is off to the best start possible! As your body starts to build the baby, it pulls the nutrients it needs from mom, which is why it's critical to get stores up as early as possible so you aren't left in a state of deficiency. Even if you missed getting on supplements before pregnancy happened, it's never too late to start.
Why this formula?
We've taken the guesswork out of selecting your prenatal DHA supplements!
There are a number of different fish oil and Prenatal DHA supplements available on the market, making it incredibly difficult to ensure that you are selecting only the best for your changing body and the needs of your new babe. 
Our Prenatal DHA comes in a smaller capsule making it easier to swallow. It is also unflavoured and has no fishy aftertaste which can be of particular importance when dealing with the sensitive palate of a pregnant woman! 
Because pregnancy is also a time where women become very aware of exactly what they are ingesting, we have been sure to select a supplement that is third party tested and surpasses the strict international standards for purity and freshness. Our Prenatal DHA is purified of environmental toxins without chemicals or excessive heat, and is processed in an oxygen-free/nitrogen-rich environment utilizing proprietary technologies to ensure the lowest oxidation and highest stability for superior freshness. Furthermore, the  fish is wild caught and sourced in line with the Norwegian fisheries management system and is processed with minimal environmental impact.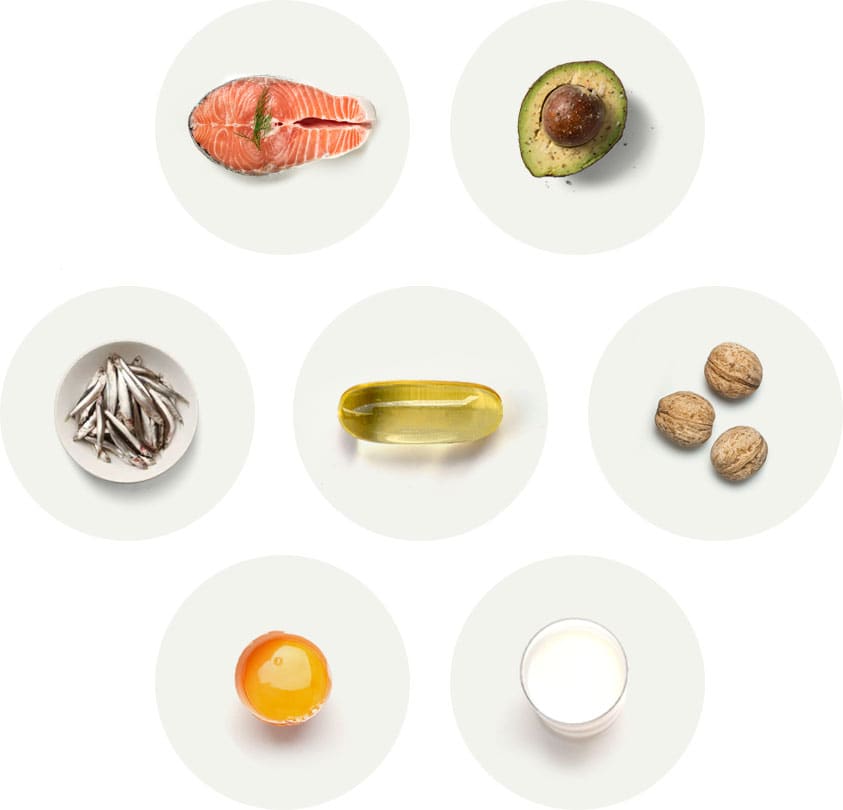 How much do I really need?
While Health Canada hasn't established a specific dietary recommendation for DHA, other international organizations recommend that pregnant and lactating women consume at least 400-500mg DHA per day. 
We recommend taking 1 capsule twice a day to achieve 480 mg DHA per day. Your primary care provider may recommend different dosing based on your individual needs.
Still not sure what you're after?
Take our Health Assessment and let us help!
Nutritional Info
Supplement Facts
PRENATAL DHA
PER 1 CAPSULE

Amount Per Serving
Fish Oil providing:
500mg
- Eicosapentaenoic acid (EPA 20:5 (n-3))
102mg
- Docosahexaenoic acid (DHA 22:6(n-3))
240mg
Vitamin D (cholecalciferol/vitamin D3)
5mcg
Non-Medicinal Ingredients: Fish oil from anchovies and sardines. Softgel capsule made of gelatin, purified water, glycerin, vitamin E and olive oil
Recommended Use or Purpose:Prenatal DHA is the ideal supplement before, during, and after pregnancy, providing safe and effective omega-3 nutrition for moms.
Recommended Dose (Adults): Take 1 capsule twice a day with food.
Cautions & Warning:  Store in a cool dry place away from heat and sunlight. Because they can affect blood clotting, use fish oil supplements cautiously if you're taking any anticoagulant drugs such as Coumadin (warfarin), have had a hemorrhagic stroke, or are scheduled for surgery. People with allergies to fish should avoid fish-derived Omega-3 capsules.
As with any natural health product, you should consult your healthcare practitioner on the use of this product. Store product in a cool and dry place. Keep out of reach of children. If you experience an adverse event or allergic reaction, discontinue use immediately and contact a healthcare professional.