IRON
Iron
25mg
NPN 80078515
Manufactured By CanPrev
NON GMO
DAIRY FREE
GLUTEN FREE
SOY FREE
WHEAT FREE
PRESERVATIVE FREE
ARTIFICIAL COLOURS
SWEETENERS
ARTIFICIAL FLAVOUR
VEGAN
FOR PREVENTING IRON DEFICIENCY
This easy to tolerate iron contains the preferred bisglycinate form, a chelated iron that is easy to absorb, gentle on the stomach and doesn't cause gastrointestinal upset.
Should be taken only on the advice of your primary care practitioner

Contains the bisglycinate form of iron for better bioavailability and fewer side effects

25mg of pure elemental iron per capsule
Why you'll love it
Because your primary care provider has advised you to. While Iron is an essential mineral responsible for a number of critical functions in the body, getting too much Iron can be dangerous, which is why we only recommend taking a supplement based on the advice of your primary care provider, as determined by your blood levels or symptoms. This is not a supplement to take just because you feel tired and look pale – best to go to the doctor and get a blood test to know for sure. 
In general, the amount of Iron you need depends on your age and gender, and some groups are more likely to be getting less Iron than others. Menstruating women and individuals that donate blood regularly are at risk for lower Iron levels. Vegetarians and vegans may not absorb as much Iron from plant sources, and women who are pregnant have greater Iron demands for both themselves, and their growing baby. But, just because you fit into one of these categories, it doesn't necessarily mean you need to take a supplement. Getting your blood work done is really the best way to decide. 
If you're generally healthy and eat a varied diet, you're likely getting your daily required intake (yes, even vegans and vegetarians with thoughtful meal planning can achieve optimal iron levels through diet alone). To help improve the absorption of your dietary Iron intake, you may wish to consider doing some of the following things:
 – Adding a source of Vitamin C at meals
 – Avoiding Calcium supplements with meals
 – Cooking food in cast iron skillets or using a "lucky iron fish"
 – Increasing your legume and leafy green intake
Why this formula?
There are two forms of Iron available in supplement form: Heme Iron and non-heme Iron. Heme Iron is found only in animal products and it's the most well absorbed form. Non-heme Iron is found in plant foods. Though the absorption rates of non-heme Iron are slightly lower, it's still possible to achieve the same therapeutic effect by taking slightly larger doses. Because vegetarians and vegans are amongst the primary consumers of Iron supplements, we made sure to select a product that's free of any animal products and safe for those following this lifestyle. 
You may have heard of the most common forms of iron before – ferrous sulfate and ferrous gluconate. These are the ones you will typically find in drug stores and are the ones most commonly recommended by your family doctor. This is because they are relatively cheap and easy to produce. However, both of these forms are really poorly absorbed, meaning you often need mega doses (like 300mg) per pill in order to achieve any therapeutic benefit. Those high doses come at the expense of your gut, often causing bloating, constipation and general GI upset.  But fear not! There are a number of other more tolerable forms of iron available on the market, which is why we have chosen one that contains the amino acid chelated bisglycinate form. This particular form has much better bioavailability and far fewer gastrointestinal side effects as compared to its more widely available counterparts.
Our supplement is also formulated with a complex of B vitamins and copper which help to improve absorption and build blood.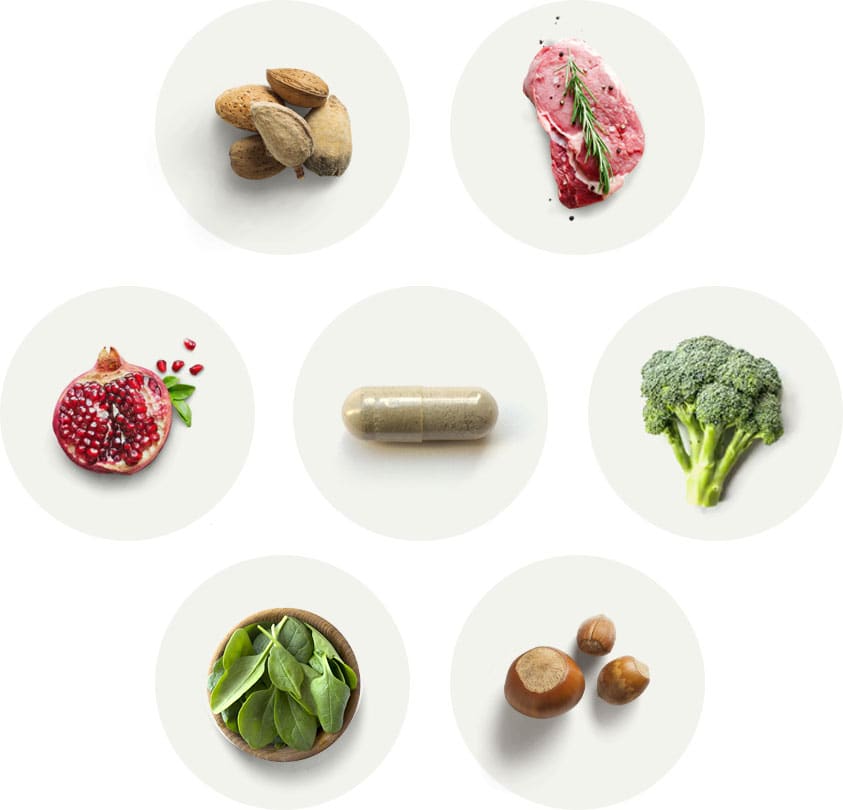 How much do I really need?
This question is best answered by your primary care provider depending on if you are looking to prevent or treat a condition. The recommended dietary allowances are listed below for reference. If you feel that you are not meeting these levels with diet alone, it may be a good idea to have your blood levels checked. 
For men over 18, the RDA is 8 mg.

For women between 19 and 50, the RDA is 18 mg 

For both men women over 50, the RDA is 8 mg

For pregnant women, RDA increase to 27 mg respectively 

For lactating women, the RDA to  9–10 mg, due to a temporary cessation of menstruation.
While Iron is better absorbed on an empty stomach, some people find that regardless of the form of Iron they are taking, they may experience some nausea. If this is the case for you, you can consider taking it with food. We recommend getting your blood levels checked after 4 months of taking this supplement to ensure that the dose is right for you. 
High intakes of other minerals, particularly Calcium, Magnesium, and Zinc can interfere with Iron absorption, so when treating Iron deficiency, try to take Iron at least 2 hours apart from these minerals and all other prescription medications. Additionally, certain foods can impact the absorption of Iron such as tea, coffee and egg yolks and therefore should be limited by those looking to increase their iron levels with supplements. On the other hand, Vitamin C helps increase Iron absorption, so pairing it with your Vitamin C capsule or a Vitamin C rich food source is always a good idea.
Still not sure what you're after?
Take our Health Assessment and let us help!
Nutritional Info
Supplement Facts
IRON
PER 1 CAPSULE

Amount Per Serving
Iron (Ferrochel Ferrous Bis-glycinate Chelate)*
25mg
*Mineral chelate supplied by Albion Laboratories, Inc. FerrocheITM and the Albion Gold Medallion design are registered trademarks of Albion Laboratories, Inc. Chelate covered by U.S. Patent 7,838,042.
Non-Medicinal Ingredients: Vegetable grade magnesium stearate, vegetable capsule, microcystalline cellulose.
Recommended Use or Purpose: Helps to prevent iron deficiency.
Recommended Dose (Adults): Take one (1) capsule per day with food, or as directed by a healthcare practitioner. Take a few hours before or after taking other medications.
Cautions & Warning:  Keep all Iron supplements out of the reach of children. Acute Iron poisoning in infants can result in serious consequences. Severe Iron poisoning is characterized by damage to the intestinal lining, liver failure, nausea and vomiting, and shock.
As with any natural health product, you should consult your healthcare practitioner on the use of this product. Store product in a cool and dry place. Keep out of reach of children. If you experience an adverse event or allergic reaction, discontinue use immediately and contact a healthcare professional.