TURMERIC
Turmeric
500mg
NPN 80085663
Manufactured By NFH
NON GMO
DAIRY FREE
GLUTEN FREE
SOY FREE
WHEAT FREE
PRESERVATIVE FREE
ARTIFICIAL COLOURS
SWEETENERS
YEAST
ARTIFICIAL FLAVOUR
AVOID WHEN PREGNANT/BREASTFEEDING
FOR INFLAMMATION AND BEYOND
Turmeric is a plant native to South India and Indonesia that has been valued in Asia for thousands of years as a spice and medicinal herb. It has been long used in Ayurvedic medicine to help with inflammation, wound healing and as a powerful antioxidant
Used to help improve chronic inflammation, wound healing and as an antioxidant

Water soluble formula that helps improve bioavailability and efficacy
Why you'll love it
Because this ancient spice, long used in Ayurvedic medicine, may just be the most powerful herb on the planet! The benefits of Turmeric are many, but it's real claim to fame is its ability to reduce inflammation. In fact, there are over 12,000 peer-reviewed articles currently published touting its success. 
Individuals with osteoarthritis are often recommended over the counter anti-inflammatories and pain relievers as their only mechanism of pain control. However, long term use of these supplements can have some pretty negative unintended consequences on other body systems. Luckily, a number of clinical trials have shown that taking Turmeric may in fact be as effective, if not more so, at reducing osteoarthritis pain. 
But Turmeric's pain-relieving properties don't just end with osteoarthritis. There have been numerous studies examining the benefit of Turmeric in wound healing, burn pain, post operative pain, arthritis pain, neuropathic pain, dental pain and sciatic nerve pain! 
Chronic smokers should also consider Turmeric as part of their supplement regimen or quitting plan, as studies have shown that daily intake can help with the detoxification of carcinogens.
Why this formula?
Adding Tumeric to your daily cooking is a good way to enjoy the spice, however, the Turmeric in your spice jar is actually quite poorly absorbed, so the amount that you would need to really notice a therapeutic effect may very well ruin your dish! Eating the whole root form regularly as part of a turmeric latte or curry dish is still a great way to reap all the phytonutrient benefits from this amazing spice, however those looking to achieve a therapeutic benefit may need supplements as well. 
When deciding which Turmeric to supplement with, It's important to look for one that contains a large percentage of curcumin (or curcuminoids), the active component of Turmeric.  The root itself only contains about 3% curcumin, so understanding the concentration of active ingredient is a critical part of the selection process. This water-soluble form has greater stability and enhanced plasma bioavailability (>20 times more bioavailable than the regular curcumin form) for targeted health benefits.
You may have heard that turmeric must be combined with black pepper and beneficial fats to ensure proper absorption.  This recommendation is rooted in Ayurveda and traditional Chinese medicine and backed by some current scientific evidence. There have also been other attempts to increase the body's ability to more effectively absorb the curcumin including liposomal, nanoparticle, phospholipid and structural analogue forms of curcumin, though none have demonstrated superior efficacy over one another and researchers continue to strive for the most ideal options.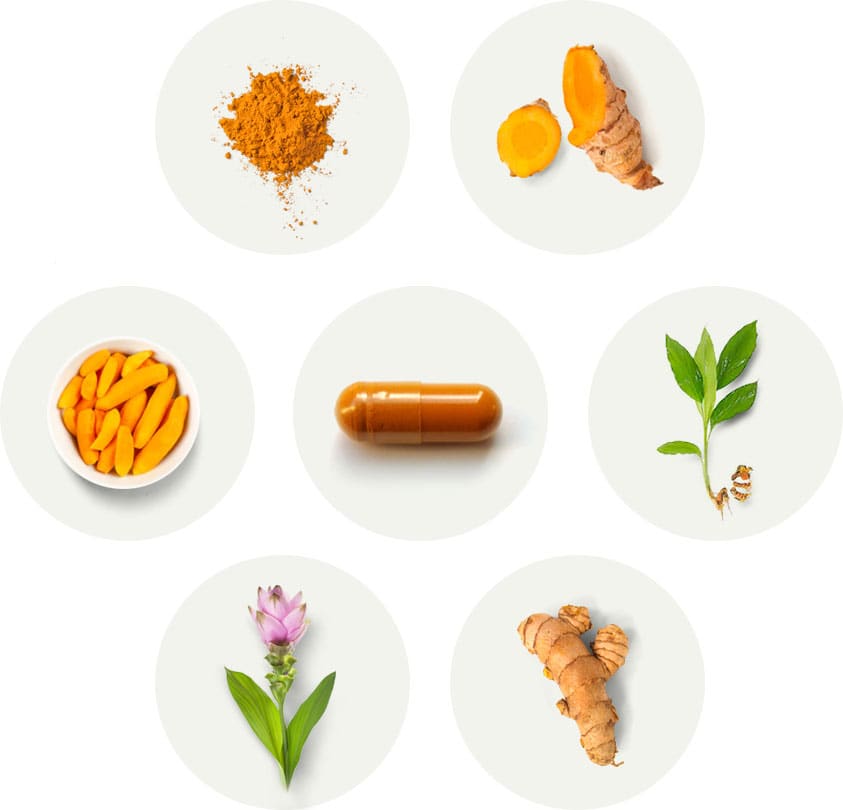 How much do I really need?
This really depends on what your goals are with Turmeric. Someone looking to supplement with Turmeric for overall general health should aim to consume at least 1.4mg per pound of body weight. However, doses required to help with certain ailments are often much higher.
There have been a number of clinical studies showing positive benefit of Turmeric, however, the dosing seems to be all over the place depending on the type of supplement used due to Turmeric's poor bioavailability. Our standard recommendation is one 500mg capsule taken once to  twice daily with food, though if you are working with a practitioner, they may suggest higher or different dosing depending on your unique circumstance.
Still not sure what you're after?
Take our Health Assessment and let us help!
Nutritional Info
Supplement Facts
TURMERIC (CURCUMIN H20 SAP)
PER 1 CAPSULE

Amount Per Serving
Turmeric (Curcuma longa) root extract, 10% water soluble curcuminioids
500mg
This is a Professional Line Product and requires your Practitioner's name at checkout
Non-Medicinal Ingredients: Vegetable magnesium stearate and silicon dioxide in a capsule composed of vegetable carbohydrate gum and purified water.
Recommended Use or Purpose: Provides antioxidants for the maintenance of good health.
Recommended Dose (Adults): Take 1-2 capsules daily with food.
Cautions & Warning:    Consult a health-care practitioner prior to use if you are pregnant; if you are taking antiplatelet medication or blood thinners; if you have gallstones or a bile duct obstruction; if you have stomach ulcers or excess stomach acid; or if you are taking any other medications or natural health products. Consult a health-care practitioner if symptoms persist or worsen. Do not take Curcumin  concurrently with chemotherapy, as it may interfere with the activity of chemotherapy drugs. Curcumin may be taken before and after completion of chemotherapy protocol.
As with any natural health product, you should consult your healthcare practitioner on the use of this product. Store product in a cool and dry place. Keep out of reach of children. If you experience an adverse event or allergic reaction, discontinue use immediately and contact a healthcare professional.