SPIRULINA
Spirulina
500mg
NPN 80067070
Manufactured By Prairie Naturals
NON GMO
GLUTEN FREE
PRESERVATIVE FREE
ARTIFICIAL COLOURS
SWEETENERS
ARTIFICIAL FLAVOUR
VEGAN
ORGANIC
CAUTION WHEN PREGNANT/BREASTFEEDING
HARVESTING THE POWER OF SUPERFOOD
These tiny, single-celled freshwater microalgae contain an impressive 70% protein content! This lean & green protein source is also a natural source of minerals, including iron, calcium, and magnesium. Its high levels of B12 and protein make it the perfect addition to a vegetarian or vegan diet.
High in protein and vitamin B12

Certified Organic, Non-GMO and Vegan

No fillers, binders, excipients or carriers
Why you'll love it
Because this blue-green algae is a nutritional powerhouse and a complete source of vegan protein! Nature truly is amazing and kudos to the first person who thought to sample this fluffy green plant in the sea. This super-plant can be up to 70% protein by weight and contains adequate amounts of all essential amino acids. Each gram of protein in Spirulina is four times more absorbable than the same gram of protein in beef. It's also a great source of trace minerals and vitamins, especially B12 and beta carotene, making it a great supplement for those who aren't so keen on fruits and vegetables. It's also a good source of Iron, containing 25-50 times more than what you'd find in raw spinach, and almost equivalent to what you'd find in red meat!
It has been found to be an excellent source of Gamma Linoleic Acid (GLA) which is responsible for reducing inflammation and also acts as a powerful immune booster. Interestingly, by blocking the release of histamine, Spirulina has been found to be effective in treating those with allergies or hayfever, helping to reduce sneezing, runny nose, stuffiness and itching.
What's more is that Spirulina is an extremely environmentally friendly and sustainable food source that is easy to grow and harvest. It requires only one-minute of water per year to produce versus beef which requires 218 times more to get the same 10g of protein! To date, there are nearly 1700 peer reviewed scientific articles evaluating its health benefits which tells us it's a supplement to take note of. 
Regular supplementation with Spirulina also removes accumulated toxins in the body, creating a gentle and safe daily cleansing effect, though we recommend you speak to your primary care provider to see if this is appropriate for you.
Why this formula?
When Spirulina grows in the wild, it may become contaminated with toxic metals, harmful bacteria or toxins produced from other algae, which is why it was important for us to choose a supplement that was certified organic and responsibly sourced.  Our spirulina is cultivated in cement ponds on Hainan Island in a designated special Economic Zone to promote sustainability and agriculture. The product is produced in an ISO certified, HACCP certified, Kosher certified, organic certified, CMP facility. Routine testing is done to ensure Health Canada standards are exceeded with respect to measuring algal toxins,  microcystins, BMAA, benzopyrene, pesticides and aflatoxins.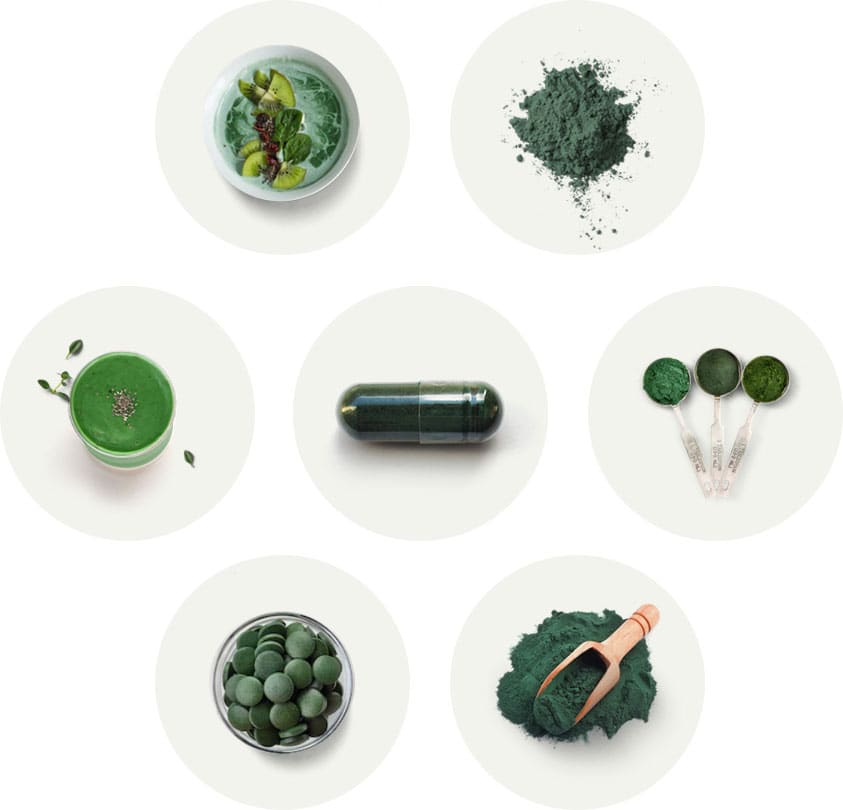 How much do I really need?
While the dosage of Spirulina required to treat certain conditions is quite high and outside our scope, if you're looking to take Spirulina for general wellness or to help with allergy symptoms, we recommend taking 1000mg twice a day.
Still not sure what you're after?
Take our Health Assessment and let us help!
Nutritional Info
Supplement Facts
SPIRULINA
PER 1 CAPSULE

Amount Per Serving
Organic Spirulina (spirulina platensis)
500mg
Non-Medicinal Ingredients: None
Recommended Use or Purpose: Spirulina is a rich source of carotenoids, phycocyanin (blue pigments), chlorophyll (green pigment), iron and plant-based (or complete) protein.
Recommended Dose (Adults): Take 2 capsules twice a day.
Cautions & Warning: Consult a health care practitioner if: you are pregnant or breastfeeding, you have a metabolic condition called phenylketonuria (PKU), you have an autoimmune disease such as multiple sclerosis, rheumatoid arthritis or lupus, you are taking drugs that suppress the immune system or you are taking lipid lowering drugs; or you are a tobacco smoker.
As with any natural health product, you should consult your healthcare practitioner on the use of this product. Store product in a cool and dry place. Keep out of reach of children. If you experience an adverse event or allergic reaction, discontinue use immediately and contact a healthcare professional.