RHODIOLA
Rhodiola
100mg
NPN 80086965
Manufactured By Pure Encapsulations
AVOID WHEN PREGNANT/BREASTFEEDING
STRESS RELIEVING BOTANICAL
Rhodiola has been found to inhibit stress-induced depletion of important brain neurotransmitters. In addition to aiding sleep, Rhodiola can enhance mood and decrease occasional episodes of worry and nervousness, allowing for more efficient functioning under stressful conditions
Beneficial for stress induced sleep related issues as well as enhanced mood, decreased worry and nervousness

Standardized to 3% Rosavins and 1% Salidrosides
Why you'll love it
Because being in fight or flight mode is great for when the last train comes in 5 minutes, it's just not so great for everyday life. In addition to aiding sleep, Rhodiola can enhance mood and decrease occasional episodes of worry and nervousness, allowing for more efficient functioning under stressful conditions. "Adaptogen" is definitely a buzz word lately which is no surprise given that it seems like daily stress levels are on the rise. With more pressure to "do more", people are finding themselves burning the candle at both ends, wreaking havoc on their adrenal system. And while not all stress is bad, too much stress for prolonged periods of time can lead to health problems. 
But what does adaptogen even mean? Basically, it means that it can respond to stress in any way the body needs, either by up-regulating or down-regulating cortisol, the main hormone involved in your adrenal stress response. In other words, whether your body is craving a boost of energy or needs some encouragement to take it down a few notches, adaptogens can respond accordingly, creating a balance in whatever direction you need. But, keep in mind, not all adaptogenic herbs are created equally. Some are more calming and nourishing while others are more energizing. 
Popularized in Herbal and Traditional Chinese Medicine, Rhodiola is ideal for those looking to calm the spirit and invigorate the mind. It has been shown to help improve sleep quality, boost the immune system, reduce inflammation and is most used for its ability to improve focus and mental and physical stamina. Many of the clinical studies that have been done on Rhodiola are in populations who do cognitive work and have a high demand on brain function, especially in a shift schedule, such as students, nurses, physicians, lawyers, etc.  In these individuals, fatigue is often a result of extended periods of minor physical exhaustion leading to stress and burnout, and Rhodiola seems to be able to relieve this fatigue while at the same time improving cognitive functioning. Interestingly, studies have not shown a decrease in fatigue or an increase in cognitive functioning in individuals who aren't experiencing burnout, further alluding to the fact that Rhodiola is a true adaptogen. 
If the following resonates with you, then you may benefit from supplementing with Rhodiola:
I am stressed and anxious
I regularly experience stress related headaches
I seem to catch every cold that goes around
I usually feel overwhelmed and jangled
I am anticipating a period of high stress and I want to be ready (think planning your wedding, taking exams, finishing residency)
And while there is no doubt that the benefits of Rhodiola seem ideal, it is important to keep in mind that it should not be used as a band-aid as you continue to push yourself beyond your limits. Rather, it should be used for additional support in conjunction with strategies to help improve sleep, get outside and find more restorative down time while you identify and address any underlying issues that may be contributing to burn-out
Why this formula?
As with many other herbal products on the market, you can often find a wide variety of different formulations and standardizations of the same herb. For Rhodiola, we recommend using extracts that mimic the doses and concentrations found in clinical studies, so accordingly, our supplement is standardized to 3% rosavin and 1% salidroside (the active components of the rhodiola herb).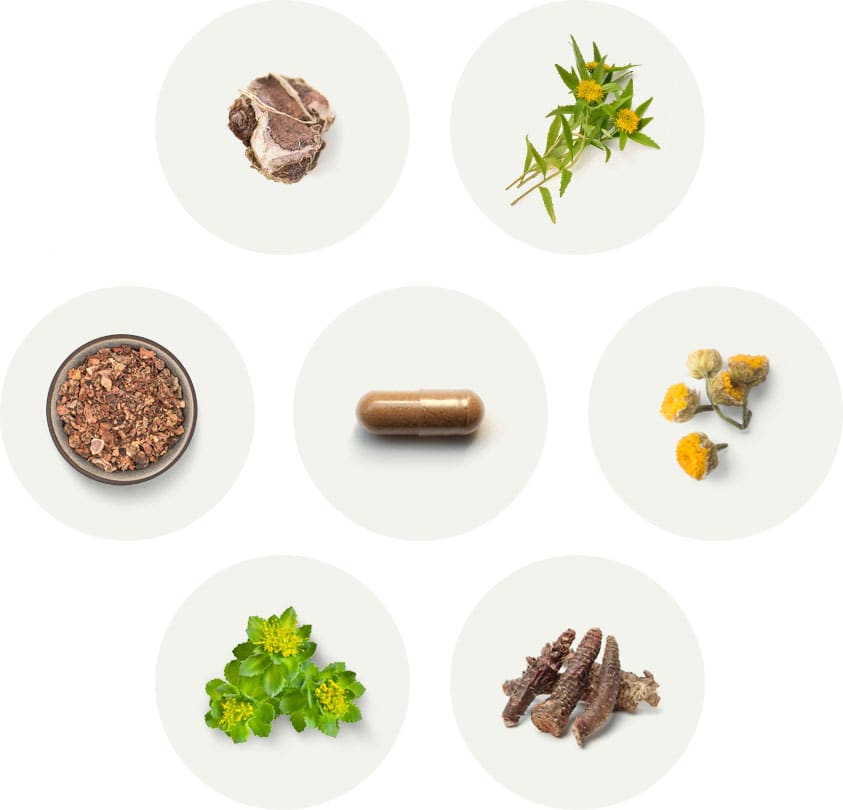 How much do I really need?
The dosing in clinical trials varies from study to study, but in general, doses between 200 to 680mg have been shown to have benefit on reducing stress and the burnout effect. Our supplement contains 100mg per capsule which when taken twice a day, is an ideal starting dose for those looking to add a Rhodiola supplement to their regimen. We recommend continuing with this dose for 4 weeks to assess its effectiveness. Some people find Rhodiola to be stimulating, so we don't recommend taking after 3pm and it should be used with caution in people who tend to be naturally more anxious or have really high energy.
Still not sure what you're after?
Take our Health Assessment and let us help!
Nutritional Info
Supplement Facts
RHODIOLA
PER 1 CAPSULE

Amount Per Serving
Rhodiola rosea (Rhodiola) (root, standard extract) Standardized to contain 3% totalrosavins and 1% salidrosides
100mg
Non-Medicinal Ingredients:  Hypoallergenic plant cellulose, vegetarian capsule (hypromellose, water)
Recommended Use or Purpose: Helps temporarily reduce symptoms of stress.
Recommended Dose (Adults): Take 1 capsule up to twice daily.
Cautions & Warning:   Consult a health care practitioner prior to use if you suffer from any psychological disorder and/or condition such as frequent anxiety or bipolar depression with manic behaviour. Do not use if you are pregnant or breastfeeding.
As with any natural health product, you should consult your healthcare practitioner on the use of this product. Store product in a cool and dry place. Keep out of reach of children. If you experience an adverse event or allergic reaction, discontinue use immediately and contact a healthcare professional.