REISHI
Reishi
250mg
NPN 80032325
Manufactured By Organika
NON GMO
DAIRY FREE
GLUTEN FREE
SOY FREE
EGG FREE
WHEAT FREE
CORN FREE
PRESERVATIVE FREE
ARTIFICIAL COLOURS
SWEETENERS
YEAST
ARTIFICIAL FLAVOUR
VEGAN
AVOID WHEN PREGNANT/BREASTFEEDING
GENTLE IMMUNE, STRESS AND ENERGY SUPPORT
Reishi Mushroom supports the immune system, heart and other organs while helping to combat stress and fatigue
Supports the immune system while reducing stress and managing fatigue

Hot-water extracted using Traditional Chinese Methods

Sustainably grown and thoroughly tested
Why you'll love it
Because mushrooms aren't just for pizza anymore! The Reishi mushroom is an edible fungus that falls under a class of medicinal mushrooms that have been historically used in Chinese, Japanese and Eastern European medicine practices as adaptogens. They're just starting to gain popularity in western medicine, and can be seen popping up everywhere from your favorite local juice bar or coffee shop, to the snack aisle of health food stores. 
These mushrooms are classified as "adaptogens", meaning they can respond to stress in any way the body needs, either by up-regulating or down-regulating cortisol and other hormones involved in your adrenal stress response.  Reishi's primary claim to fame is its ability to help support the immune system. But rather than stimulating the immune system like other "immune boosters" do, mushrooms work by normalizing immune function in whatever direction the body requires. It can also support the nervous, cardiovascular and hepatic systems, as well as playing a role in detoxification. 
Reishi is used most often as a "general wellness tonic" and has effects on both the innate (short term) and adaptive (longer term) immune response.
If the following resonates with you, then you may benefit from supplementing with Reishi:
I need to sleep better and deeper

I want to boost my immune system

I am getting colds and infections more often than I think I should be

I need help detoxifying my body

I usually feel overwhelmed
Why this formula?
In order for you to see a benefit from mushroom supplements, they have to be heated to ensure that they are bioavailable. Because the cell wall of these fungi are indigestible to us, heat is required to break down the wall and make the nutrients accessible. Our supplement is hot water extracted using Traditional Chinese Methods.
Because Reishi grows in the wild, it was important for us to select a supplement that was harvested using sustainable practices and also tested for any impurities, heavy metals or pesticides that may be present in the environment in which it was grown.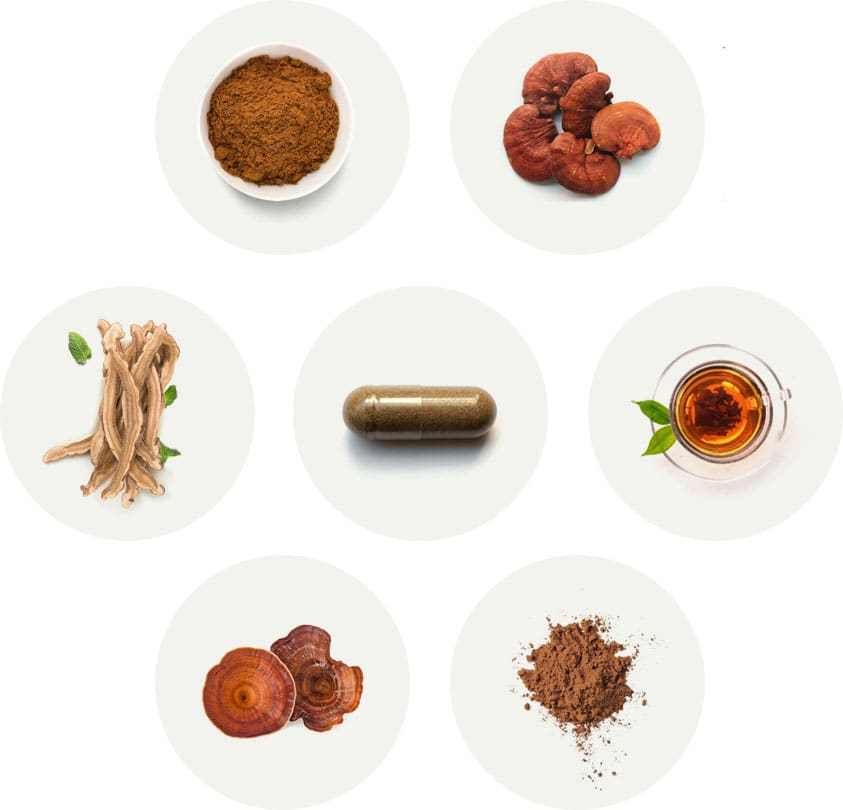 How much do I really need?
As with many other adaptogens, it may take a while to experience the full benefits of supplementing with Reishi, sometimes up to 4 weeks. For general wellness, we recommend starting at a dose of 1 capsule twice daily taken with meals to prevent an upset stomach. 
Doses for medicinal mushrooms can vary depending on if you are using them therapeutically, so we recommend discussing any specific dosing requirements with your primary care provider.
Still not sure what you're after?
Take our Health Assessment and let us help!
Nutritional Info
Supplement Facts
REISHI (MUSHROOM EXTRACT - REISHI)
PER 1 CAPSULE

Amount Per Serving
Reishi Mushroom 4:1 Extract (Ganoderma lucidum) (Whole fungus) Equivalent to 1000 mg dried Reishi Mushroom powder
250mg
Non-Medicinal Ingredients:   Brown Rice Flour, Magnesium Stearate, Hypromellose / Pullulan (Vegetarian Capsule)
Recommended Use or Purpose: Provides antioxidants for the maintenance of good health. Used in Herbal Medicine to support the immune system.
Recommended Dose (Adults): Take 1 capsule twice daily with meals.
Cautions & Warning:  Consult a health care practitioner prior to use if you are undergoing chemotherapy treatment; suffer from an immune disorder (e. g. Crohn's disease, myasthenia gravis, multiple sclerosis, rheumatoid arthritis, systemic lupus erythematosus, HIV/AIDS, etc.); or are taking immunosuppressants. Do not use if you are pregnant or breastfeeding. Hypersensitivity (allergy) has been known to occur; in which case, discontinue use. Irritated skin, nausea, and diarrhea have been reported; in which case, discontinue use.
As with any natural health product, you should consult your healthcare practitioner on the use of this product. Store product in a cool and dry place. Keep out of reach of children. If you experience an adverse event or allergic reaction, discontinue use immediately and contact a healthcare professional.