ASHWAGANDHA
Ashwagandha
300mg
NPN 80054818
Manufactured By St. Francis Herb
NON GMO
GLUTEN FREE
SOY FREE
EGG FREE
WHEAT FREE
ARTIFICIAL COLOURS
SWEETENERS
ARTIFICIAL FLAVOUR
ORGANIC
AVOID WHEN PREGNANT/BREASTFEEDING
RESTORE A SENSE OF SOOTHING CALMNESS
The most soothing of the adaptogens, Ashwagandha can be used for improving energy, memory and learning, promoting libido, improving sleep, reducing anxiety as well as reducing inflammation and oxidative stress
Acts as a soothing adaptogen to help control the adrenal stress response

Root extract standardized to 5% Withanolides

Made with KSM-66, a clean, sustainably sourced ashwagandha
Why you'll love it
Because being in fight or flight mode is great for when the last train comes in 5 minutes, it's just not so great for everyday life. Ashwagandha is an adaptogenic herb that has been used in Ayurvedic medicine for over 3000 years to help the body balance and regulate its stress response. "Adaptogen" is definitely a buzz word lately which is no surprise given that it seems like daily stress levels are on the rise. With more pressure to "do more", people are finding themselves burning the candle at both ends, wreaking havoc on their adrenal system. And while not all stress is bad, too much stress for prolonged periods of time can lead to health problems. 
But what does adaptogen even mean? Basically, it means that it can respond to stress in any way the body needs, either by up-regulating or down-regulating cortisol, the main hormone involved in your adrenal stress response. In other words, whether your body is craving a boost of energy or needs some encouragement to take it down a few notches, adaptogens can respond accordingly, creating a balance in whatever direction you need. But, keep in mind, not all adaptogenic herbs are created equally. Some are more calming and nourishing while others are more energizing. 
Ashwagandha is definitely the most soothing of adaptogens. Historically, it has been used for improving energy, memory and learning, promoting libido, improving sleep, reducing anxiety, as well as reducing inflammation and oxidative stress. It has even been used to boost the immune system and to treat fertility challenges. 
If the following resonates with you, then you may benefit from supplementing with Ashwagandha:
I am tired and wired

I am stressed out

I struggle to fall asleep

I have chronically achy and painful joints or arthritis

I deal with memory and brain fog

I am nervous and anxious

I have chronic fatigue syndrome, fibromyalgia or chronic muscle tension

I would like to improve my fertility (males) 
And while there is no doubt that the benefits of Ashwagandha seem ideal, it is important to keep in mind that it should not be used as a band-aid as you continue to push yourself beyond your limits. Rather, it should be used for additional support in conjunction with strategies to help improve sleep, get outside and find more restorative down time while you identify and address any underlying issues that may be contributing to burn-out.
Why this formula?
Like most other herbal preparations, there can be a wide variety of standardizations and concentrations available on the market, depending on the process the manufacturer uses to extract the active ingredient from the herb. 
In the case of Ashwagandha, the active components are called withanolides, of which there are a few varieties with varying potency and safety. A good quality supplement will have at least 5% withanolides and be extracted from the root only. Some lower quality supplements will be extracted from the root and leaves in a processes that leads to significantly higher levels of Withaferin A which can be cytotoxic at high concentrations. Note that Withaferin A is still present in small but safe to consume quantities when extracted from the root only. 
As with other herbal medicines, it's always critical to ensure that the product is non-GMO and third party tested to ensure that the potency and claims made on the label are true and accurate. Our supplement is certified organic and made with KSM-66®, a clean, sustainably sourced ashwagandha that is backed by research and clinical studies.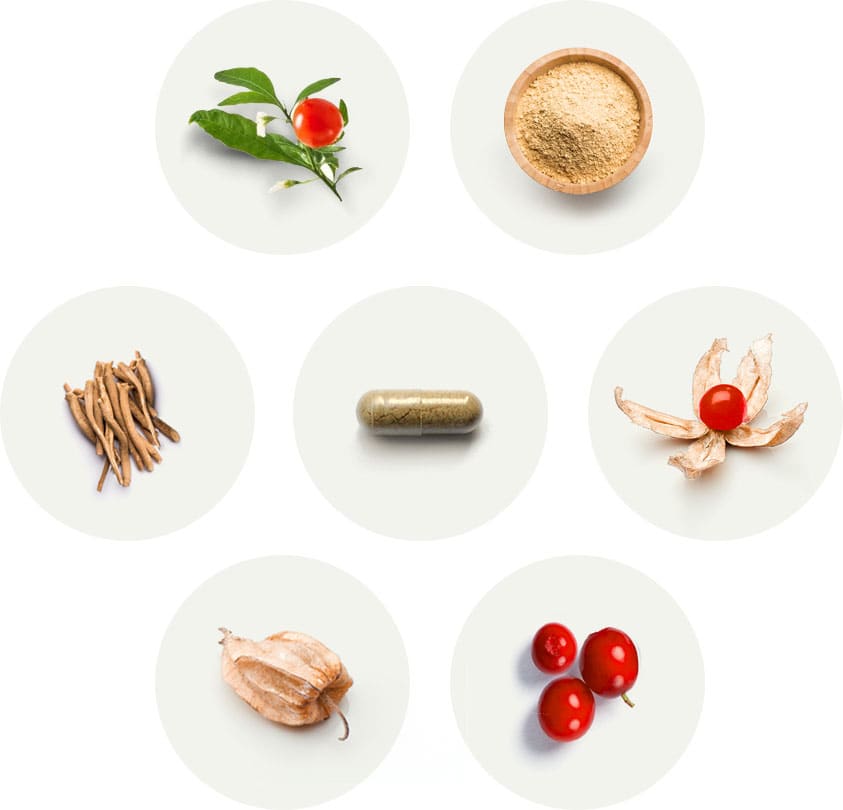 How much do I really need?
The ideal dose of Ashwagandha is often individualized based on your body's needs and tolerance. It's recommended to start with a low dose of 300mg to 600mg per day and increase slowly based on your response, though we recommend taking no more than 2 capsules per day without the guidance of your primary care provider. 
Be aware that it can take a few weeks to fully notice the benefit of your supplement.
Still not sure what you're after?
Take our Health Assessment and let us help!
Nutritional Info
Supplement Facts
ASHWAGANDHA
PER 1 CAPSULE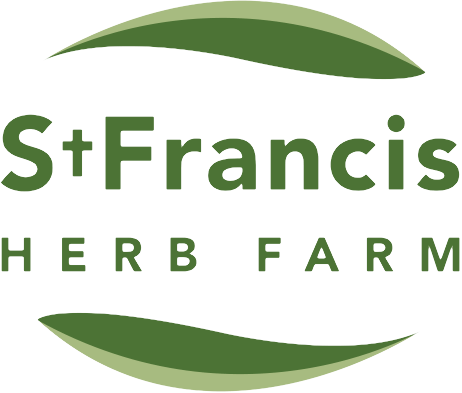 Amount Per Serving
Dried Certified Organic Ashwagandha (Withania somnifera, root) Standardized to 5% Withanolides 12:1 Concentration (each capsule contains 3600mg dried root)
300mg
Non-Medicinal Ingredients:   Magnesium stearate,  Hypromellose (vegicap), Milk Products
Recommended Use or Purpose: Can help promote healthy testosterone production in males as well as help to increase resistance to stress/anxiety in individuals with a history of chronic stress.
Recommended Dose (Adults): Take 1 capsule twice daily.
Cautions & Warning:   This is not to be used in pregnancy or in anyone who has allergies or sensitivities to plants in the nightshade family. Due to its sedative properties, it should not be used in conjunction with other sedative medications, either prescribed or herbal. It should be used cautiously and under supervision in anyone with a thyroid condition as it may affect the thyroid hormone as well. There is conflicting evidence for its use in people with autoimmune conditions so it is recommended to work closely with your primary care provider.
As with any natural health product, you should consult your healthcare practitioner on the use of this product. Store product in a cool and dry place. Keep out of reach of children. If you experience an adverse event or allergic reaction, discontinue use immediately and contact a healthcare professional.