Skin Health
Skin Health
NPN Mixed
Manufactured By VTMN Packs
NON GMO
PRESERVATIVE FREE
ARTIFICIAL COLOURS
SWEETENERS
ARTIFICIAL FLAVOUR
AVOID WHEN PREGNANT/BREASTFEEDING
All the vitamins you need for radiant, healthy skin
Your skin is the body's largest organ, so take care of it from the inside out with this balanced nutritional regimen that supports soft, smooth, and most importantly, healthy skin.
Your twice daily packs contain:

2 x Omega 3 1000mg

2 x Probiotic 15B CFU

2 x Vitamin C 600mg

1 x Zinc 15mg

1 x B Complex
Why you'll love it
Omega 3: Omegas are essential nutrients required for the proper structure and functioning of every cell in the body. In fact, there are over 60 conditions that have been shown to benefit from their use. Furthermore, due to their extensive role, they're critical for optimal health and nearly everyone can benefit from improving their Omega 3 intake.
Probiotic: Intestinal flora play such an important role, and supplementing with Probiotics can really have a profound effect on promoting overall good health. In fact, 70% of the immune system is located in the intestine which makes sense when you consider that the gut is actually the gatekeeper responsible for allowing the passage nutrients while preventing toxins from entering our bloodstream
Vitamin C: While Vitamin C is quite prevalent in raw fruits and vegetables, many Canadians just aren't eating enough, especially with the limited seasonal availability of local produce and the fact that today's fruits and vegetables contain about 30% less Vitamin C than our grandparents' did. Vitamin C probably has more health benefits than just about any other nutrient. As a powerful antioxidant, Vitamin C works to improve everything from your immune function to skin health and pretty much everything in between.
Zinc: As an essential mineral, zinc plays a number of roles in the human body and has an impact on many things including brain function, immune health, clear skin and hormonal balance.
B Complex: B Vitamins are important factors in energy production, hormone metabolism, adrenal health and cognitive and mental health, and as stress levels increase, so does the body's demand for these critical nutrients.
Why this formula?
Our fish oil supplement has been thoroughly reviewed to ensure that it contains only small fish that are mollecularly distilled to ensure that it is high in EPA and DHA and low in contaminants. It has also been independently tested to ensure that it is free from heavy metals and environmental toxins so you can confidently take this knowing you are getting all of the good stuff and none of the bad.
Our probiotics are all multi-strain. Having more strains provides strength in numbers as well as variation in the type of bacteria you are colonizing with. High concentrations of fewer strains can be great for treating certain conditions like antibiotic associated diarrhea, however diversity is important in supplements used for daily, general health so as not to end up with an over-colonization of any specific strain of bacteria.
Our Vitamin C is patented calcium ascorbate made using a water-based, chemical-free process. The result is a buffered, non-acidic form that is gentle on the stomach and less likely to cause any of the digestive issues associated with regular vitamin C.
We have chosen a zinc supplement that contains the picolinate form to make sure you get the most benefit at the lowest dose. Though the dose we recommend is well within the safe range, there is evidence that long-term supplementation of high doses of zinc can result in copper deficiency, which is why a small dose of copper is included in our supplement to prevent any potential deficiencies from occurring.
The most important thing to consider when selecting a high quality B Complex is whether or not the individual B Vitamins are present in their active, usable forms which is exactly what you will find in this formula.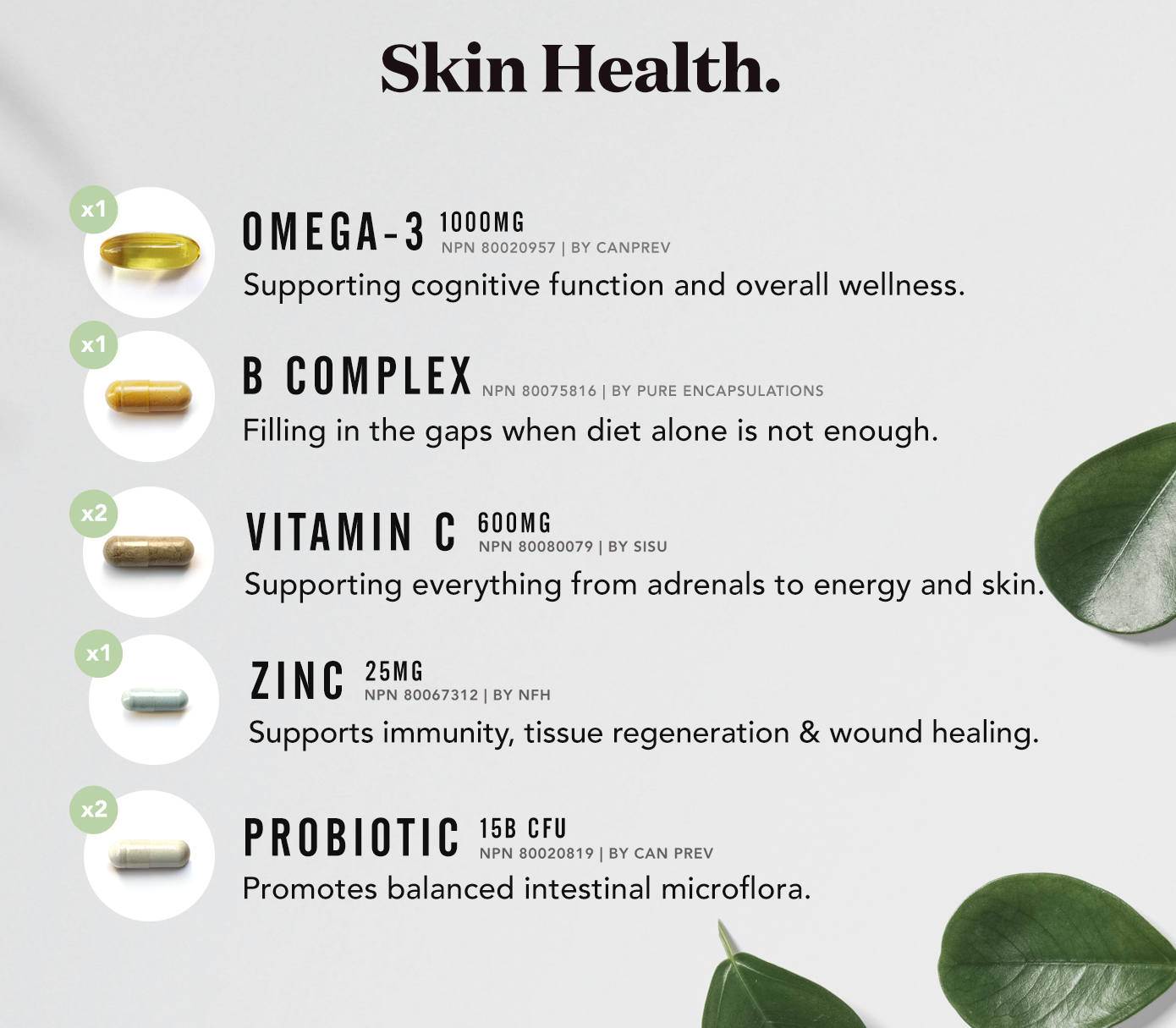 How much do I really need?
Everything you need for the day will come in your Skin Health dispenser box. Each day, you'll take a morning pack with 4 capsules and an evening pack with 4 capsules. These should be taken after food and with a full glass of water to be sure you are getting the most out of your supplements.
Still not sure what you're after?
Take our Health Assessment and let us help!
Nutritional Info
Supplement Facts
SKIN HEALTH COLLECTION
PER 1 CAPSULE

Amount Per Serving
Eicosapentaenoic acid (EPA 20:5 (n-3))
400mg
Docosahexaenoic acid (DHA 22:6(n-3))
200mg
Bifidobacterium bifidum HA-132
2.25B CFU
Bifidobacterium longum HA-135
2.25B CFU
Lactobacillus acidophilus HA-122
1.50B CFU
Lactobacillus plantarum HA-119
4.95B CFU
Lactobacillus rhamnosus HA-111
4.058B CFU
Vitamin C (calcium ascorbate) from Ester-C brand calcium ascorbate
600mg
Calcium (calcium ascorbate)
72mg
Citrus bioflavonoids (lemon, grapefruit, orange, mandarin orange - fruit)
100mg
Zinc (from zinc piccolinate)
25mg
Copper (copper citrate) 1mg
1mg
Vitamin B1 (Thiamine HCL)
100mg
Vitamin B2 (riboflavin, riboflavin-5-phosphate sodium)
12.5mg
Vitamin B3 (inositol hexanicotinate, niacinamide)
108mg
Vitamin B5 (calcium d-pantothenate)
100mg
Vitamin B6 (pyridoxine hydrochloride, pyridoxal-5'-phosphate)
16.7
Vitamin B7 (biotin)
400mcg
Folate (L-5-MTHF, Metafolin)
400mcg
Vitamin B12 (methylcobalamin)
400mcg
OMEGA 3
Non-Medicinal Ingredients: D-Alpha tocopherol, bovine gelatin, glycerin, purified water.
Recommended Use or Purpose: Source of omega‑3 fatty acids for the maintenance of good health. Helps support cognitive health and brain function. Helps maintain cardiovascular health and to reduce serum triglycerides.
Recommended Dose (Adults): Take 1 capsule twice a day with food.
Cautions & Warning: Store in a cool dry place away from heat and sunlight. Because they can affect blood clotting, use fish oil supplements cautiously if you're taking any anticoagulant drugs such as Coumadin (warfarin), have had a hemorrhagic stroke, or are scheduled for surgery. People with allergies to fish should avoid fish-derived Omega-3 capsules.
PROBIOTIC
Non-Medicinal Ingredients: Ascorbic acid, fatty acids, silicon dioxide, potato starch, vegetable capsule
Recommended Use or Purpose: Contains a blend of 5 clinically tested probiotics that promote a favorable gut flora and help support gastrointestinal health.
Recommended Dose (Adults): Take 1 capsule once or twice a day with food.
Cautions & Warning: Do not use if you have an immune-compromised condition such as AIDS or lymphoma, or if you are undergoing long-term corticosteroid treatment. As with any natural health product, you should consult a healthcare practitioner on the use of this product. Consult a healthcare practitioner prior to use if you have fever, vomiting, bloody diarrhea or severe abdominal pain. This product has come into contact with milk and soy. Do not use if you are allergic to dairy or soy products.
VITAMIN C
Non-Medicinal Ingredients: magnesium stearate (vegetable source), capsule shell (hypromellose)
Recommended Use or Purpose: Vitamin C is a factor in the maintenance of good health and in the normal development and maintenance of bones, cartilage, teeth, and gums.
Recommended Dose (Adults): Take 1 capsule twice daily.
Cautions & Warning: Diabetics should take Vitamin C supplements only under supervision, since it may affect blood sugar levels.People with genetic iron disorders should consult their physicians before using Vitamin C supplements, since it increases the rate of iron absorption. Too much vitamin C can cause diarrhea. Some researchers believe that abruptly ending high-dose Vitamin C supplementation can cause "rebound scurvy". This is controversial, but it is probably wise to reduce high doses gradually.
ZINC
Non-Medicinal Ingredients: Vegetable magnesium stearate, silicon dioxide, and microcrystalline cellulose in a vegetable capsule composed of vegetable carbohydrate gum and purified water
Recommended Use or Purpose: Helps in connective tissue formation; to produce and repair connective tissue; to maintain immune function and healthy skin; to metabolize carbohydrates, fat, and proteins; to form red blood cells.
Recommended Dose (Adults): Take 1 capsule once daily with food.
Cautions & Warning: For adult use only. Do not use if you are pregnant or breast-feeding.
B COMPLEX
Non-Medicinal Ingredients: Vegetarian capsule (hypromellose, water), ascorbyl palmitate.
Recommended Use or Purpose: Supplementing provides a total hypoallergenic formula that employs the synergistic action of all the B vitamins. The B vitamins often work together to deliver a number of health benefits to the body. Together, they also help combat the symptoms and causes of stress, depression, and cardiovascular disease. B vitamins hat ve been shown to: Support metabolism; Maintain healthy skin and muscle tone; Enhance immune and nervous system function; and Promote cell growth and division — including that of the red blood cells that help prevent anemia.
Recommended Dose (Adults): Take 1 capsule daily with food.
Cautions & Warning: Caution advised during pregnancy and breastfeeding.
As with any natural health product, you should consult your healthcare practitioner on the use of this product. Store product in a cool and dry place. Keep out of reach of children. If you experience an adverse event or allergic reaction, discontinue use immediately and contact a healthcare professional.